SnapMaze QR Code Firefox Extension and Mobile Reader

SnapMaze Firefox extension offers you to generate QR codes storing URL from the webpage you currently looking at.This is a plugin for your browser that changes any weblink in a webpage into a QR Code. Pretty useful! Creating a QR code could not be so much easier that to have a plug-in instantly create the QR codes for every weblink. You can use a mobile phone to read the QR code storing URL from the pop up screen as shown in the picture below.You may also having the QR code into your blogs.
Wait no more, try our QR Code Firefox extension.It is amazing! Free download of the extension available.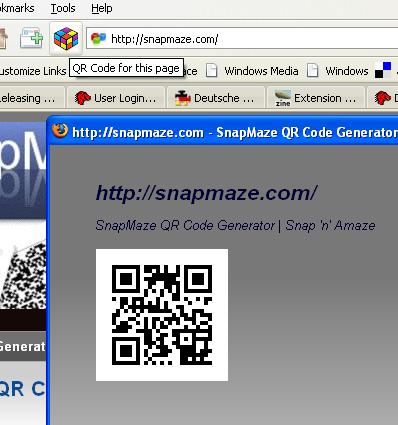 Download File: http://snapmaze.com/help/firefox/success/snapmaze.com.xpi
* Firefox: 1.5 – 3.6.*
* en-US (English).
---
Download SnapMaze QR Code Reader
into your mobile phones: mobile.snapmaze.com/jar



* Phone requirements : J2ME MIDP 2.0 , CLDC 1.1
There are two installation methods:

Method 1:

Activate the mobile phone browser and point your mobile browser to mobile.snapmaze.com/jar/ and download the snapmazereader.jad directly from your mobile phone. This method will automatically download all necessary files.

Method 2:

If you planned to install the reader by download it first to PC and later transfer to mobile phone using bluetooth/infrared, then you need to download both these files:
SnapmazeReader.jad
SnapmazeReader.jar
After performing these downloads, you need to activate the installation process by opening the .jad file.
---
Feedback
For product feedback, commentary & enhancement requests, please post to:
support@snapmaze.com
If you would like us to provide development on customize QR Code applications, please post to:
sales@snapmaze.com and inform us of your needs. We will offer our assistances and solutions as soon as possible.